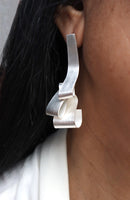 Wearable art to help you stand out from the crowd!
We know how important self-expression is. Our artful jewellery will help you show off your creativity and allow you to be surrounded by art and beauty all day!

Whether it's the movement of light and shadow, the delicate lines found in nature, or exploring how rigid metals can be transformed into seemingly fluid, flowing forms, Amanda's designs channel the delicacy and passion of art without compromising structure, functionality, and beauty. The result is exquisitely-crafted fine jewellery that captures and reflects the creativity within each of us.

"Amanda takes metal and molds it into something at once wearable, fluid, vibrant, and eternal."
"...refined, sculptural and very beautiful."
Shop Now
Testimonials
Outstanding design and quality! It was a treat to wear such pretty earrings to work and be the envy of my colleagues. Pretty packaging and arrived quickly. A true pleasure to correspond with this super-talented artist! Worth every penny.


Kim
I saw the Rose collection at a street fair and they were so pretty I had to buy the studs in gold. Great quality and I got lots of compliments.

Lyla
I've had several pieces from Jewelust, including custom pieces, and I love them all. I have some for special occasions, and a few for everyday wear and none of them have needed repairing of any kind.

Lucie